Review Reassess & Realign
Business Planning Course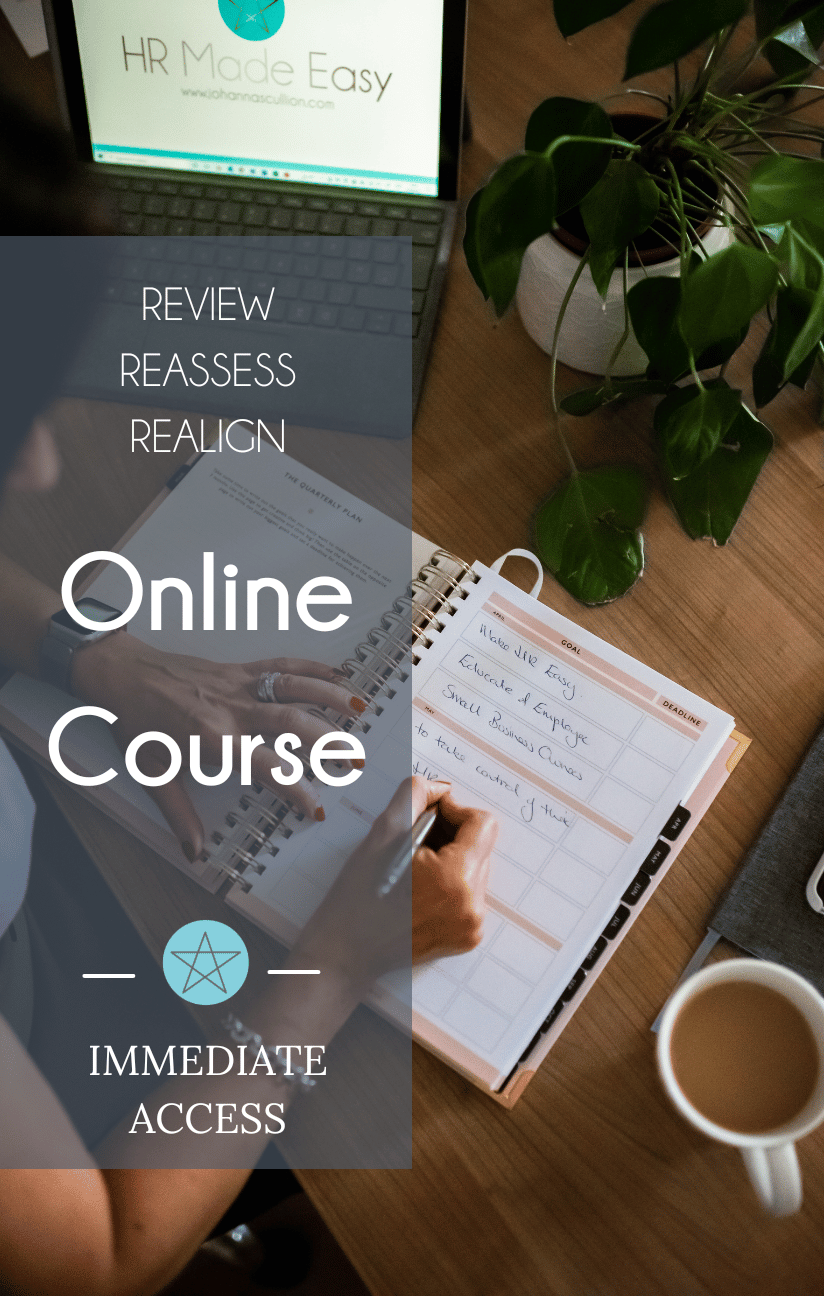 Review Reassess & Realign
Online Course Immediate Access
This is my signature planning system that I have used for years to build my business.  It is designed with simplicity and clarity in mind. 
You get:
On demand access 24/7 via HR Made Easy online portal
Module one: Review
Module two: Reassess
Module three: Realign
Review Reassess Realign Workbook
Bonus Module: Behind the scenes with Johanna's own planning
Investment £97.00
Special January 2023 Bonus
Complimentary ticket to live online Planning Workshop Monday 23 January 11:00am – 12:30pm
Worth £47.00
Review Reassess & Realign
Live Workshop 
In the live session on Monday 23 January 2023 11am – 12:30pm I will lead you through the core modules of Review; Reassess and Realign.  
You get:
Live mentor led guidance through practical but thought-provoking exercises to help you gain clarity to help you find focus on your plans for 2023.
Conclude with creation of your 5 x 5 goal plan
Q&A session to guide and support you to making the most out of the session.
Investment: £47.00
Bonus:
Review Reassess Realign Workbook
Replay available for 10 days

You are here because you want to take control of your business and need a process to help you put your plans in place.
If you want to make changes, don't let the fear of  "big change" put you off making a start.  The key is knowing  your destination – your big goal – but remember all of the best road trips have many, many pit-stops and detours on the way.  That's all part of the journey.
Nothing happens overnight, things take time, but if you really want something and start to take steps towards making that happen, then I know that in six months you will be looking back and seeing how far you have come.
My Review Reassess Realign Business Planning course teaches the exact process I use to make this magic happen in my business.  Why not get it now and make those dreams happen. 
If you want to stay in touch, sign up to my email list and as a thank you receive the Manager's Quick Reference Guide – Which Policy To Use for Underperformance
Knowing each small business is unique I have created a tiered HR service packages for you to chose from. 
I make HR easy.  All you have to do is select which level of support you need. 
If you want to work with me, click the button below to see how I make HR easy for small business owners like you.  
Have a Question? Want More Info?